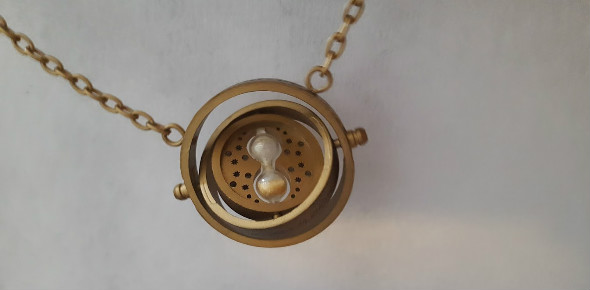 Have you ever wished you could squeeze one more thing into a weekend? Wouldn't a Harry Potter time turner come in handy?
Actually I have one! Well, I have a replica. My dear friend and covenmate Dave Magnenat bought it for me in Diagon Alley at The Wizarding World of Harry Potter. It's a beauty, with three spinning rings and a functioning hourglass at the center. The glass takes less than a second to empty but it does work.
Okay, it's an awesome piece of memorabilia. But – it's a toy, right? I mean, it doesn't actually work.
Have you heard of Pop Culture Magic? Taylor Ellwood's sytem taps into magical energy through contemporary stories. The Lord of the Rings, Harry Potter, Star Wars and other series drop us into fully realized worlds where magic makes a difference. We live these stories so vividly that the characters and places seem real to us. They engage us at such a deep level that we bring them into our daily lives, we wear costumes and learn to speak languages and buy replicas of the tools: a light saber, an Ollivanders wand, the One Ring.
Clothing, language, and tools are all part of traditional practice. Why not adapt these pop culture versions to use in our functional magic?
I do just that with the time turner. As I write I am on the second day of a writing weekend. I spent Friday driving out to my writing retreat and relaxing from a grueling work week. On Saturday I walked and read and thought about what I wanted to write. It became clear that it was going to be one of those weekends where I have to relax and unwind before I can create. On Saturday night I realized the weekend was half gone and I still wanted to get some writing in. Time turner to the rescue! I gave it three spins while saying "I have time to relax and time to write".
Buying myself time to write is what I use it for most often. I do find that it takes a toll. There's an energic drain as I'm giving something of myself to it. The Harry Potter version cost Hermione in the fictional universe (she exhausted herself with studies) so it makes sense that it does to me too.
What does it do? I'm rested and finishing this piece off before I return to drafting my next book. How does it work? You could say it helped me to focus on task management to make everything happen. Or, you know, folds in space, or whatever. In the true spirit of operative magic I'm not all that interested in figuring out a theory that satisfies everyone, I just know it works. Give it a whirl!
For more ideas about how to leverage real magic through the power of story, here are Taylor Ellwood's published books – with at least one more on the way!
Pop Culture Magic
Pop Culture Magic Second Edition
Pop Culture Magic 2.0
Pop Culture Grimoire
Pop Culture Grimoire 2.0
http://brandywilliamsauthor.com/wp-content/uploads/2017/04/timeturnercropped.jpg
290
590
Brandy Williams
http://brandywilliamsauthor.com/wp-content/uploads/2017/06/BWA-Banner-Center2.png
Brandy Williams
2017-04-23 17:57:57
2017-04-23 18:28:42
How to use a time turner