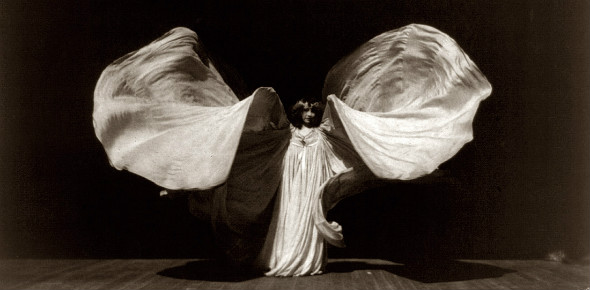 Aleister Crowley's ritual Liber XV, The Gnostic Mass specifies that the priestess "moves in a serpentine manner involving 3½ circles of the Temple". In their notes on the mass Helena and Tau Apiryon note that while some people refer to this movement as a "serpentine dance" the ritual does not specify dance or music here.
Since the actual path of the priestess is more or less serpent-like it's clear that serpentine refers to the pattern she walks, not how she walks it. But why do we say "serpentine dance" so automatically? That's down to Loie Fuller.
Fuller started her career as a "skirt dancer" (think can-can girl). She made the form uniquely her own in several ways. First she sewed wands into her costume; if you're a belly dance fan you may have seen "Isis wings", smaller replicas of Loie's wands. Second, her costumes weren't dresses as much as drapes, hundreds of yards hanging directly from her neck. Finally she developed a lighting system that threw color and images onto the fabric. It was startling, new, fabulous and completely modern. At the Folies Bergere Loie came to epitomize the Art Nouveau.
Anatole France describes Fuller as "a person of good mind and good heart, a soul somewhat inclined to mysticism, to philosophy, to religion, a very deep, a very cheerful and a very noble soul." She may not have been a magician in the same sense as Florence Farr or Dion Fortune but she was very much concerned with magical ideas expressed in a performative way.
Fuller was interested in the effects of color. In her autobiography she describes her meeting with Camille Flammarion who experimented with the effects of colored light on plants. Fuller believed that color had a distinct impact. She says "colour so pervades everything that the whole universe is busy producing it, everywhere and in everything."
At the turn of the century a few pioneering dancers rejected the formalism of ballet and sought a more natural turn of movement. Fuller was among the earliest to seek emotional expression in movement. "At present dancing signifies motions of the arms and the legs…the motion…is regulated rather by the time than by the spirit of the music." In contrast, she argued, music "ought to indicate a form of harmony or an idea with instinctive passion." The motion of the dance should mirror the sensations of the body and express sorrow, joy, surprise, hope.
Fuller combined the expressive emotion of dance with the emotional impact of color. Her combination of music, color, and billowing movement transported audiences and inspired artists of all kinds. She herself linked this to a religious feeling, describing the rapture she experienced when she waved a scarf in the light from stained glass windows in Notre Dame, the same rapture she experienced in the dance.
Here are a few representations of her work. The Lumiere Brothers captured her "serpentine dance" on film and laboriously hand-tinted the frames to capture the sense of color. The serpent-like movement is created by the swirling fabric.
Loie Fuller did not found a school of dance, however contemporary dancer Jody Sperling has revived her dance style. Sperling's residency at University of Wyoming recreated Fuller's performance piece "Ballet of Light". This short film documents the process and records the complete performance (beginning at 20:58).
Fuller created a dance called "Fire". Sperling re-imagined it here.
Sperling's work extended the fire idea into a "Dance of the Elements", including water, earth, air, and ether. Here is water.
Sperling's Fuller-inspired interpretation of Clair de Lune is peaceful and ecstatic; it's a breathtaking moment of beauty.
Fuller's pioneering work laid the foundations for modern dance and paved the road that Isadora Duncan, Ruth St. Denis and Martha Graham would follow. She remains unique in her combination of music and color. She inspires me as a priestess to work with the meaning of gesture, sound and color to produce grace.
References
Fuller, Loie. "Fifteen Years of a Dancer's Life: With Some Account of Her Distinguished Friends". Boston: L.L. Maynard and Company, 1913. Web site: Google Books
Sperling, Jody. "Loie Fuller". Dance Heritage 2012. Web site: Dance Heritage.
Photo credit: By Frederick Glasier – This image was uploaded from Shorpy.com, a photo-blog site specializing in vintage photography. Source url: 1641Shorpy.com host many images from public domain image repositories, including the Library of Congress. A high resolution version of this photograph may be available elsewhere., Public Domain, https://commons.wikimedia.org/w/index.php?curid=2689845
http://brandywilliamsauthor.com/wp-content/uploads/2017/07/Loie_Fuller1.jpg
290
590
Brandy Williams
http://brandywilliamsauthor.com/wp-content/uploads/2017/06/BWA-Banner-Center2.png
Brandy Williams
2017-07-19 10:29:16
2017-07-12 21:12:56
Dancers of magic: Loie Fuller