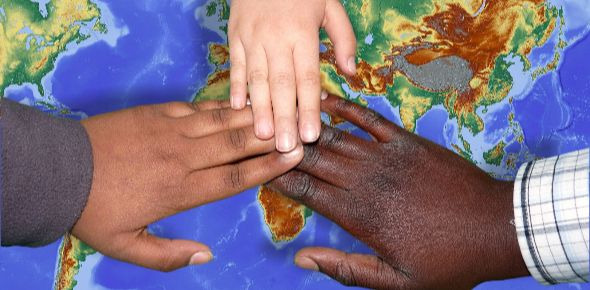 My social media threads are exploding with outrage today about the separation of children from parents at the American border. There are a lot of requests for information – what can we do? I love it that people are moved to act. There are many ways to translate that impulse directly into action.
Make a magical statement of intent.
On a piece of paper write your intention. "I support immigrant families. Those who have been separated are reunited and those who are arriving remain together." Say it out loud.
Connect with immigrant groups in Texas.
Just as at Standing Rock we don't want to flood the area without a plan (avoid the savior complex!) The Texas Civil Rights Project has joined with other groups to file a lawsuit to stop family separation. RAICES has 130 attorneys and aims to provide lawyers for every detained child. Here is a list of border advocacy groups.
Connect with immigrant groups in your area.
I live near the Northwest Detention Center in Tacoma. Detainees from the West Coast end up here. Advocates for Immigrants in Detention Northwest have people on site every day intercepting detainees just released and providing them with services. They ask people to provide things like phone cards and drivers to take people to hearings. There are groups like this all over the country.
Get educated.
Check in with your local human rights council or community group. Have they had an immigrant forum? If not, will they organize one? Last year Kitsap County Council for Human Rights (on which I sit) held a forum and I learned so much from it. In Kitsap a coalition of progressive groups holds monthly forums and we recently heard from several DACA recipients about their activist work. One big takeaway is that you have to talk to people directly on the ground to get what is really needed, you can't get that from media or from social media memes.
Organize education for others.
If no local group is willing to organize a forum you can do it yourself. It's surprisingly easy to book a free hall (as in a library), line up a speaker, and set up an FB group and event. Try to get people who are involved in immigrant issues locally, they are usually very glad to talk to a group.
Connect with the ACLU.
Send money to the ACLU. Check in with your local chapter.
Follow through!
What I see on social media threads is a pattern of:
outrage ("look at this!)
impulse to act ("we should be marching in the streets!">
messages of futility ("it's too hard")
resignation and blaming ("the system is stacked against us")
apathy until the next spark of outrage.
All that does is create content for the platform. To turn that outrage into positive change, break the cycle! Do one thing. Click a link and learn, send money, text your representatives. If you've already done that level of action and want to ramp it up, get involved with a group, and meet immigrants and listen to their stories.
Taking any action is incredibly rewarding. It turns outrage into energy which manifests the statement of intent in the physical world.
http://brandywilliamsauthor.com/wp-content/uploads/2017/06/BWA-Banner-Center2.png
0
0
Brandy Williams
http://brandywilliamsauthor.com/wp-content/uploads/2017/06/BWA-Banner-Center2.png
Brandy Williams
2018-06-18 14:13:56
2018-06-18 14:13:56
What to do about immigrant family separation