Practical Insights July-August 2017
"The purpose of any political association is the conservation of the natural…rights of woman and man; these rights are liberty property, security, and especially resistance to oppression." Olympe de Gouges, Declaration of the Rights of Woman
Story: Standing up for Freedom
What we are facing today is a cultural war. It's more than just resisting Trump and different than partisan politics. This is a fight to save humanist democracy from the minority religious Dominionists who are actively taking over secular institutions. Their goal is to convert Jews, Muslims and others (us!) to their brand of Christianity to prepare for the end times.
What I am doing about it: organizing! I was accepted into MoveOn's Resistance Summer program. I've been getting out and meeting my neighbors. I have some good news about what I'm seeing. People are meeting in churches, taverns, libraries, and on the street to fight for human rights. Many are stepping up to challenge systemic racism and sexism in ourselves and in our society. We are awake, engaged and committed!
It's especially encouraging to see people's determination to stand united. When LGBTQ rights are threatened, when Planned Parenthood's funding is on the line, when another black person is shot, we step up to defend our neighbors. We stand for equal human rights for all genders, races, orientations and religions. This threat to our common liberty is bringing us together.
Are you getting out to meet your neighbors? Do you have ideas about how to resist the radical religious takeover of our government?
Check out my blog for more stories!
Book in progress update
The working title for the book in progress is Soul and Cosmos, sequel to For the Love of the Gods. To explain the soul's journey I'm bringing back the Ladies from The Woman Magician. It's exciting to be working with them again!
Are you a Thelemite? Join the Facebook group Thelemites Against Injustice.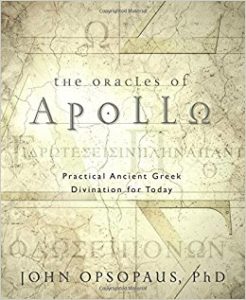 New Release: The Oracles of Apollo
For decades John Opsopaus has brought theurgy to life through his website Omphalos and the Pythagoraean Tarot deck and book. His new book The Oracles of Apollo: Practical Ancient Greek Divinationfor Today revives the ancient Greek Alphabet Oracle. The book is clear, concise, learned, and practical!
Last word
The Boston Public Library at Copley Square was built in 1895 as a "palace for the people". Its beautiful vaulted ceilings and massive staircases guarded by lions make it worth the time to visit when you're in Boston.