Practical Insights Sept. 2017
Liber AL vel Legis, I:3. "Every man and every woman is a star."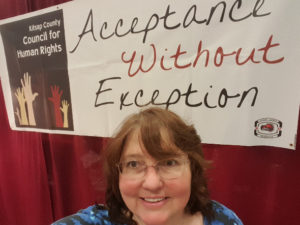 Story: Representing at the County Fair
Standing under a "Kitsap County Council of Human Rights" banner at the county fair was surprisingly challenging. It's not like Kitsap Pride where people read our motto "Acceptance Without Exception" and give us grinning thumbs up. The fair brings together everyone in the county. The same hall held the county parks department, the Democrats, the Republicans with their cardboard stand-up of Trump, Our Lady of the Sea Catholic church who picket the county Planned Parenthood office, and the Evangelical children's camp. Also the Haunted Fairgrounds booth which ran a film of screaming kids on a continuous loop. Not so bad if you're passing by, but a three-hour shift listening to that thing was torturous.
Not everyone at the fair signed on to our point of view. There's a sitting duck element to staffing a table at a really public event. One of my fellow council members reported that a woman poked her head out at him and hissed, "I believe in Jesus." I said, "Jesus believes in human rights!" He said "I know!"
We gave out small bottles of water. Quite a few people ducked into our booth like a refuge, they were safe getting water from us! There were mixed race families and gay and lesbian couples and kids with orange hair. One woman said "Why didn't I know you exist?" and we gave her a flyer to sign up to sit on the council.
One black girl passed by and focused on the sign. She popped up in front of me and said, "Human rights. Sign me up. What do I do?" I told myself think fast Brandy, this is important. What's our elevator pitch? I looked up at our sign and said, "Accept everybody."
"I can do that," she said, and bounced off.
Signing up the next generation to stand up for human rights – that's what makes a sitting duck event worth doing. Also, the Haunted Fairgrounds were taking photos of people and putting them up on Facebook, and there was our sign "Acceptance Without Exception" in the background of every one. Payback!
Check out my blog for more stories!
Book in progress update
The working title for the book in progress is Soul and Cosmos, sequel to For the Love of the Gods. To explain the soul's journey I'm bringing back the Ladies from The Woman Magician. It's exciting to be working with them again!
Are you a Thelemite? Join the Facebook group Thelemites Against Injustice.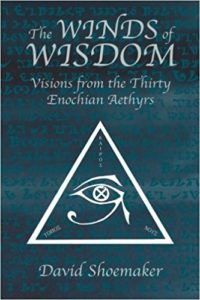 New Release: The Winds of Wisdom: Visions from the Thirty Enochian Aethyrs
David Shoemaker brings decades of experience in practice and in teaching to this approachable text. At a conference I attended in August David led a group through scrying the 32nd aethyr Tex. It was an ideal opportunity to explore the Enochian world. This book captures that experience. It is an excellent guide to working with this visionary system.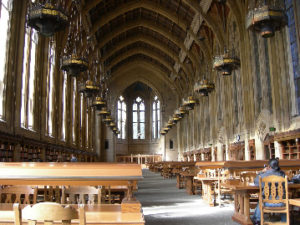 Library of the Month
The Reading Room of the Suzzalo Library on the University of Washington campus in Seattle is like a mini cathedral with its vaulted ceiling and magnificent windows. Truly a monument to learning. The library itself is open-stack so you can still walk along the aisles and find a book by serendipity. One of my favorite places on the planet.